This building, part of Essex Scout training complex, is now available as a Pack holiday centre for most weekends and during school holidays.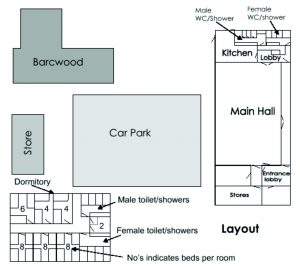 Hire includes the main hall 50ft x 30ft, large kitchen, and two small meeting rooms and a separate sleeping building which sleeps 40
These buildings have separate toilet and shower facilities. Kitchen has two 6 burner ovens, fridge, freezer, microwave, water heater and dishwasher. Hot cupboard. Full catering equipment and personal utensils.
Conference facilities available. Main hall has the space to seat up to 120 (but equipment provided for 40).
Large field at front for games and extra tents. Parking for 20 cars.
All numbers over 40 will be charged at the appropriate camp fee per day.
Download the Buildings 23 Risk Assessment
Download the Fire plan