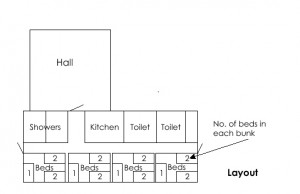 This is the smallest of our Pack holiday facilities and sleeps a maximum of 20.
Facilities include: Dining hall and kitchen, Toilets and showers.
The kitchen has small stove, cooking utensils, refrigerator, freezer and all personal cutlery.
Situated at the north end of the wood it is part of the Essex Adult Training complex. Recently refurbished in 2017 & 2018, this facility now has full central heating, double glazing, new toilets and showers.
Download the Risk Assessment
Download the Fire plan